Red Thai Curry 🌴🥥 #seasonsupply #glutenfree. Readily available store-bought Thai red curry paste adds characteristic Thai flavor and, bonus, the Thai Kitchen brand is vegetarian. You can make your own if you're so inclined, though. Feel free to change up the vegetables, as long as you slice them so they're all pretty small and about the same size.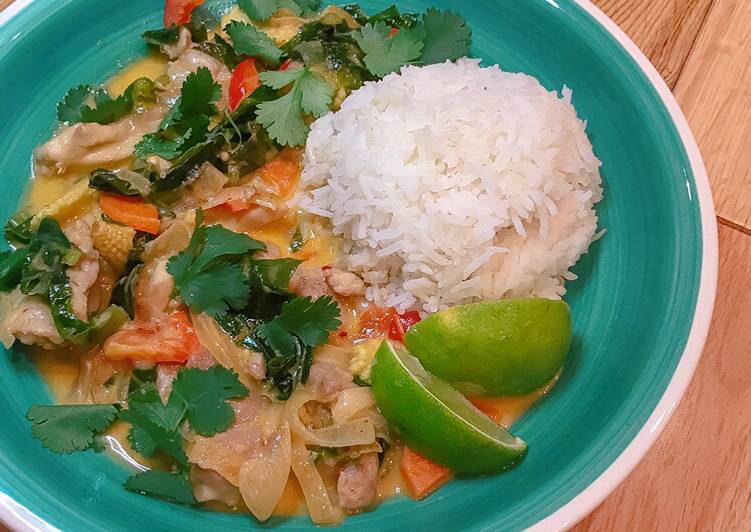 Coconut milk and curry paste make an irresistible sauce. Thai Red Curry – everything we know and love about Thai food! Big, bold Thai flavours, beautifully fragrant, the creamy red curry sauce is so good you can put anything in it and it will be amazing! You can have Red Thai Curry 🌴🥥 #seasonsupply #glutenfree using 19 ingredients and 16 steps. Here is how you cook it.
Ingredients of Red Thai Curry 🌴🥥 #seasonsupply #glutenfree
Prepare 400-500 g of Chicken Thigh (You can remove this if you are vegan/vegetarian).
You need 2 of medium onions.
You need 2 of red peppers.
Prepare 2 of carrots.
You need 180 g of baby corns.
You need of Winter greens (As much as you like).
You need 3 of garlic cloves.
You need 4 of ginger slices (Chopped. You can use less – I just love ginger so much.
Prepare 1 tea spoon of chilli, chopped.
It's 2-3 of table spoons of red curry paste.
You need 600-800 g of coconut milk.
It's 2 cubes of chicken/vegetarian stocks (If you use chicken sticks, I'd recommend to use Japanese/Chinese ones).
You need 3 of table spoons of fish sauce (You can remove this if you don't like fish sauce).
Prepare 2 of table spoons of coconut/sunflower oil (I like coconut oil because it's healthier).
Prepare of Rice of your choice.
It's of Coriander.
It's of Lime.
Prepare of Optional: Water (If you think the soup is too thick. If you cook vegetarian one, you don't need any water).
Prepare of Optional: Sugar/honey (If your soup is too spicy for someone, like young kids).
Red Curry Paste is a blend of lemongrass, galangal (Thai ginger), fresh red chilis, and fragrant spices. The spice level will vary depending on the brand of curry paste you use. The brand I use above (Thai Kitchen) makes for a mild, family-friendly dish. A classic blend of chili and spices, this sauce is one of thailand's traditional dishes – Rich, spicy and not too hot!
Red Thai Curry 🌴🥥 #seasonsupply #glutenfree instructions
Cook rice of your choice.
Chop your vegetables (After taking this photo, I decided to use more vegetables sitting in the fridge…).
Heat 2 table spoons of coconut oil in a large sauce pan over a medium heat.
Fry 3 garlic cloves, chopped chilli and 4 ginger slices for 1-2 minutes.
Add onions to the pan and cook until it gets soft and golden brown.
Add carrots to the pan.
Add the red curry paste to the pan and stir often for 2 minutes – start with a little amount and add more to adjust the taste. I don't like adding chicken to the pan at this stage because the texture won't be nice….
Pour in coconut milk – start with 200ml and add more. Please avoid pouring all the milk at the same time for better taste..
Bring to the boil, reduce to a simmer, stir a little..
Wait for the oil to rise to the surface. This is very important to make your curry tasty..
Add other vegetables to the pan and simmer for 10-15 mins until the vegetables are cooked through.
Add the fish sauce, sugar, chicken/vegetable stock, then taste. If you like it saltier, add more fish sauce. If you like it sweeter, add a little more sugar/honey. You can put some portion in a different pan for those who like saltier/sweeter taste 😀.
Add the chicken to the pan and wait until cooked. You can skip this step if you are vegetarian/vegan.
Bring to the boil and take off the heat..
Spoon the curry into bowls and add coriander on top. Basil leaves are also good..
Serve with rice and enjoy!.
However, some modern chefs prefer to reduce the number of chilies in exchange for chili powder and sometimes tomato sauce, which have the added benefit of enhancing the red color. This Thai Red Chicken Curry is incredibly delicious, so easy to make with bite size chicken pieces, snow peas and simmered in a red curry and coconut milk sauce. My love for Thai food knows no bounds. This is the quickest and easiest shrimp red Thai curry recipe ever. Great for an impressive dinner party, because it tastes great but hardly takes any time at all (especially if you buy your prawns already peeled).