Vegan raw mango cheese cup cakes. Just almonds and medjool dates for the base, and mango, bananas and coconut oil for the cheesecake. It sounds pretty stupid calling it a. The crust of these cupcakes is a mix of almonds, sunflower seeds, and Medjool dates.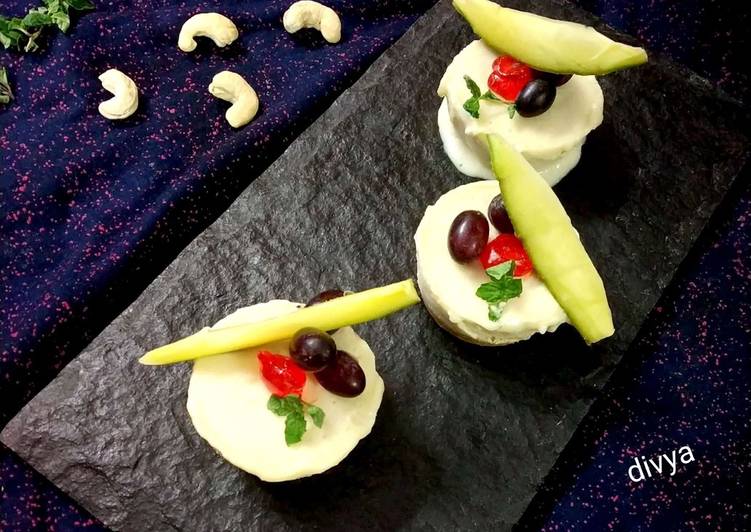 Pour over the filling mixture and even it out with the back of a knife or flat spatula. In a small pot gently melt coconut butter, coconut oil and maple syrup stirring frequently. Set aside and leave to cool down for a bit while preparing the mango. You can have Vegan raw mango cheese cup cakes using 8 ingredients and 5 steps. Here is how you achieve it.
Ingredients of Vegan raw mango cheese cup cakes
Prepare 1 cup of raw mango pieces.
It's 1 of cupnsoaked cashew.
It's 3 tsp of honey.
Prepare 1 cup of sugar powder.
Prepare 1 cup of cream cheese.
You need 1 tsp of gelatin.
You need 1 cup of biscuit crumbs.
You need 2 tsp of butter.
Peel mango, turmeric and ginger and place into a blender with lime juice and cinnamon. In a food processor, process the nuts and the chopped dates together until broken down & combined. Add the cacao nibs, cashew butter, vanilla extract, and salt and process a few times until combined. Add in mango puree and bake into cupcakes or Cake.
Vegan raw mango cheese cup cakes instructions
Take a bowl put biscuit crumbs,add melted butter mix well put in cup cake mould give flat surface..then Take a blender put cashew,raw mango pieces,honey blend nicely.
Take a bowl put cream cheese,add sugar powder beat continuously until it get creamy texture then add raw mang blended puri.
Mix well add melted gelatin beat again for 2 to3mins,then transfer on top of biscuit base.
Keep in fridge for 2 to 3 hours then take out.
Finally garnish with cherry,raw mango pieces ready to serve vegan raw mango cheese cakes.
The secret behind the successful raw cheesecake is to use a lot of fruits and to find the right balance on the texture by using coconut oil and cacao butter, but to also mix enough that you get a creamy texture on the filling. These Mango cheesecake bites (vegan and gluten-free) are easy to make with no baking required. The raw crust is made with macadamia nuts and coconut. To finish off those tropical flavors, the smooth cheesecake is topped with a layer of sweet mango. This is the perfect light and healthy summer dessert!