Vickys St Patricks Day Guinness Cupcakes, GF DF EF SF NF. Patrick's Day is just around the corner, which means it's time for everyone to go ga ga for all things green and Irish. If you ask me, though, it's all about the food (and sneaking Guinness into everything). Bangers and mash, Guinness beef stew, Irish soda bread?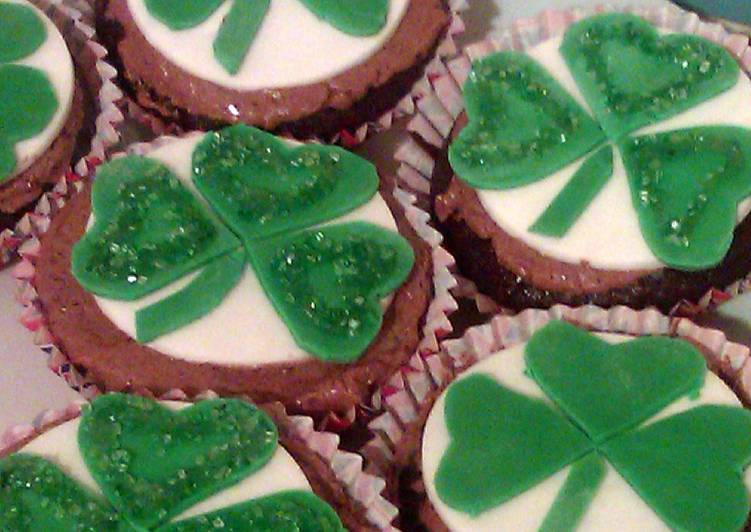 An icon used to represent a menu that can be toggled by interacting with this icon. Le roller utilise une bille afin de déposer l'encre à base d'eau sur le papier avec une extrême précision. You can have Vickys St Patricks Day Guinness Cupcakes, GF DF EF SF NF using 15 ingredients and 7 steps. Here is how you achieve it.
Ingredients of Vickys St Patricks Day Guinness Cupcakes, GF DF EF SF NF
You need 150 grams of gluten-free/plain flour (1 cup + 2tbsp).
Prepare 1/2 tsp of baking powder.
Prepare 1/2 tsp of baking soda/bicarb of soda.
It's 1/4 tsp of salt.
You need 45 grams of cocoa powder (1/3 cup).
Prepare 180 ml of light coconut milm.
Prepare 1 tsp of apple cider vinegar.
It's 60 ml of Guinness (not vegan or gluten-free, other stouts are vegan so check online or use black coffee instead).
You need 150 grams (3/4 cup) of sugar.
It's 80 ml of vegetable oil.
You need 1 1/2 tsp of vanilla extract.
Prepare of Topping.
You need 1 of your favourite chocolate buttercream icing, enough for 12 cupcakes.
It's 200 grams of white fondant icing.
You need 1 of green food colouring and edible glitter.
Vickys St Patricks Day Guinness Cupcakes, GF DF EF SF NF step by step
Preheat the oven to gas 4 / 180C/ 350°F and line a 12 hole muffin tin. In a small bowl, mix together the flour, cocoa powder, baking soda, baking powder and salt then set aside.
Whisk together the milk and the vinegar. Add the Guinness, sugar, oil and vanilla to the milk mixture and beat until foamy.
Add the dry ingredients in two batches and beat until well incorporated. Fill your cupcakes containers of choice 3/4 full. Bake for 20-25 minutes, or until a toothpick inserted into the center comes out clean.
Let cool completely on a wire rack before topping with a swirl of the chocolate buttercream icing.
Roll out the fondant to about 5mm thickness and cut out circles slightly smaller than the tops of your cupcakes. Place on top of the buttercream layer.
Dye the offcuts green, roll out again, sprinkle with green edible glitter (not required but looks really good!) and cut out with a small heart cutter. You need 3 hearts per cake, 36 in all, and 12 little 'stalks' – see picture.
Arrange on top of the fondant in a shamrock shape and the luck o the Irish be with ye!.